So here we are, our first, long overdue, blog.
Firstly, thanks for being here, we're really excited to start this Development blog to interact with you and let you know what's going on with Dream and the development. We want to connect to you more personally and keep you updated right until Dream is released, so you know how things are going!
Secondly, Sorry! – We should have done this a long time ago. We have been really busy working on Dream and learning how to run a business, very nearly forgetting the most important part along the way, you guys.
And thirdly, let us know what you think! As it's our first blog we'll be doing our best to post weekly updates for you all and would love to hear what you think about anything and everything! Whether it's how you feel about the blog or an aspect of development or something entirely different. We will be including things such as Concepts, Opinions, Ideas and just Updates on us and how we are doing. If you don't like something, let us know, we want this to be enjoyable for you to read, and reflecting that, if you like something we would love to know that too!
All 3 of us will be updating the blog and sometimes we'll try and get our composer Norman and voice actor Jonathan to weigh in their thoughts too!
We have a shiny new site which is dedicated to just Dream! It felt like Dream needed its own site as the HyperSloth one was created back at the very start of dreams development and without any focus on the game itself.

One feature on the site that we are really excited about is the 'Ask the Sloths!' page. This page lets you ask us a question, which other people can read once we answer. As long as its suitable, it will appear on the site as soon as we have answered it, and we will try to be as quick as we can answering them! They can be questions about the game, us or anything, go nuts! Right now there are no questions on there so hop over and ask us one if you have one.
We're happy to have finally launched our Kickstarter! It's been tough so far and we really need to kick it up a gear but hopefully everything will work out.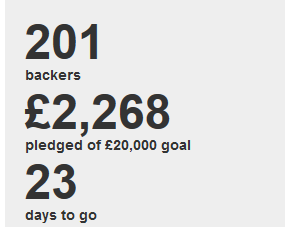 We are currently just over 5 days and hit 10% of our £20,000 goal,  so we are hoping things will speed up as we get more exposure so we can reach our goal and carry on working on the game we love. Our target for £20,000 is the minimal to cover the overheads and creating the game. Currently we are struggling to find the money to pay the rent for our student accommodation, so meeting this target would be a huge step towards completing Dream and buying more noodles. If it starts looking like we'll make our goal we'll do an update talking about stretch goals we have in mind and what we could do with a surplus of money to make Dream an even better experience for you…but we really don't want to get ahead of ourselves.
We have just launched our first and second updates and are really excited to see how people react to the new tiers and reduced prices, especially the tier where you can play the Alpha of Act I and let us know what you think! We showed the game at Eurogamer Expo in September and got tons of feedback then which has helped shape the game a little more to what it is today.
So that's pretty much all we have to say as of the moment, however next week we will be officially starting the Dev Log so check back! Also we would like to know what you think of the layout of this blog? Is it too long? Too short? Not detailed enough?  Please let us know in the comments below.
On a side note, as we missed out on a lot, would you be interested in 'Blogs from the past' where we talk about some troubles we had before, designs we tweaked with and events that went down with HyperSloth and Dream?
Thanks for your support and reading!
-Ash
Also on a side note, here's a pic of my desk as well as the Sloth Hoodie! (Yes, Iron Man :3 )